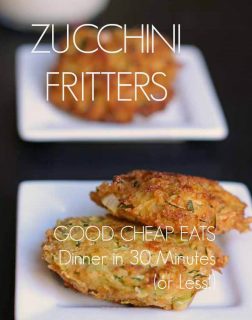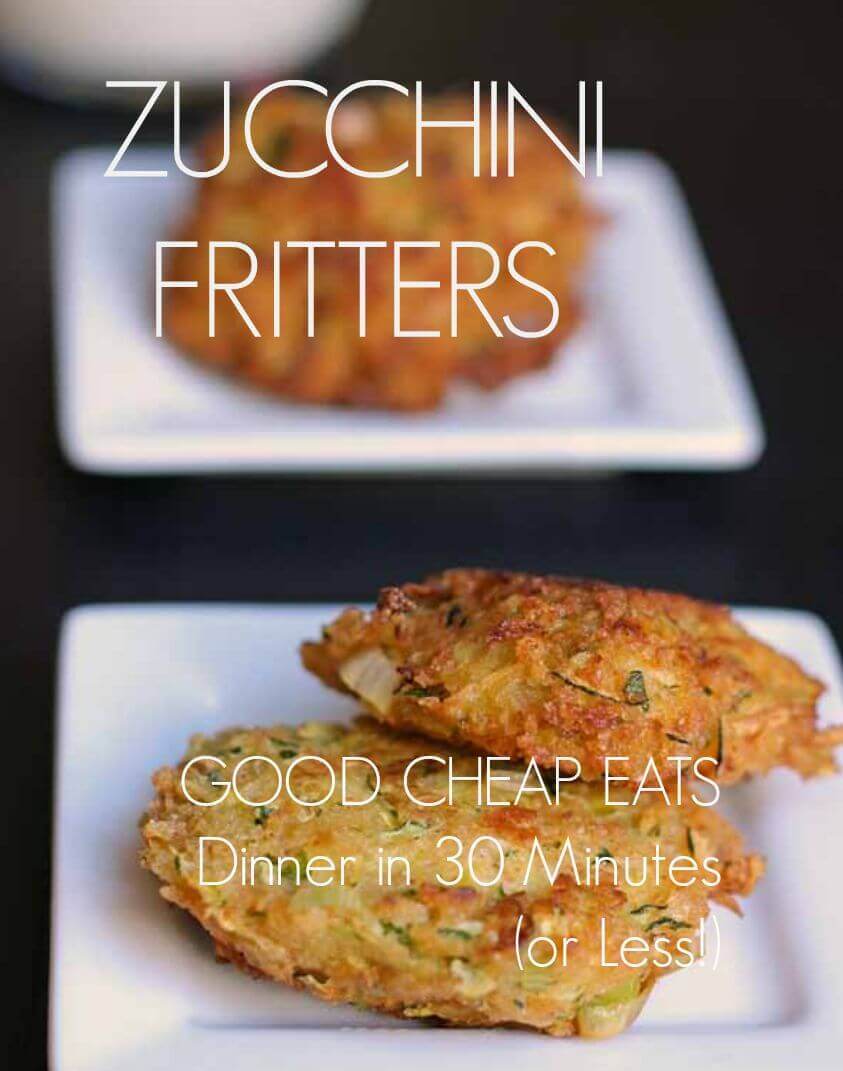 Zucchini Fritters
Yield 4 servings
These crispy little cakes of zucchini and leeks, dipped in homemade ranch dressing, are a delicious side dish for all kinds of suppers and a great snack all on their own. They will turn zucchini haters into lovers—I promise! The leeks get crispy when fried, adding great texture and a flavor reminiscent of onion rings. You can substitute shredded onion for the leek, if you prefer. (Used with permission from the book Good Cheap Eats- Dinner in 30 Minutes (or Less!)
Ingredients
2 medium zucchini
¼ large leek, chopped (about 1 cup)
2 large eggs, beaten
1 cup panko bread crumbs (Stephanie's note: I would probably use day-old bread to make bread crumbs, as Jessica suggested above)
1 teaspoon kosher salt
½ teaspoon paprika
Freshly ground black pepper
Vegetable oil, for frying (Stephanie's note: I'm a fan of frying with olive oil)
Creamy Buttermilk Ranch Dressing (page 129) or sour cream, for dipping (optional)
Instructions
Shred the zucchini using a box grater or the shredding disk in a food processor. Squeeze the zucchini to get rid of any extra liquid. (I do this in a nut milk bag, but you can also use layers of cheesecloth or a thin dishtowel.)
In a large bowl, combine the zucchini, leek, eggs, panko, salt, paprika, and pepper to taste.
Heat ½ inch of oil in a large nonstick skillet over medium-high heat.
Form the zucchini mixture into 2-inch patties. Fry the patties in batches in the hot oil until golden brown, 2 to 3 minutes per side.
Drain the fritters on paper towels. Serve immediately with dipping sauce.
Courses Side dish
Recipe by Keeper of the Home at https://keeperofthehome.org/dinner-in-30-minutes-or-less-the-author-of-good-cheap-eats-shares-her-secrets-and-zucchini-fritters-recipe/