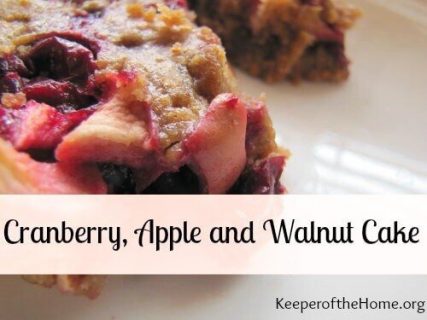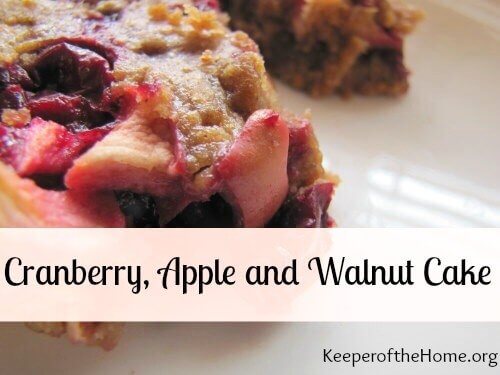 Cranberry, Apple and Walnut Cake
Ingredients
1 ¾ cups sucanat
½ cup oil (I use melted coconut oil or safflower oil)
2 cups whole wheat pastry flour or unbleached all-purpose flour (or a combination of the two)
1 teaspoon baking soda
1 teaspoon cinnamon
½ teaspoon nutmeg
1 teaspoon salt
2 eggs
1 teaspoon vanilla
2 cups diced apples
½ cup walnut pieces
½ pound fresh or frozen whole, raw cranberries
Instructions
Beat the oil and sucanat together until creamy.
Add the eggs and vanilla and beat until well combined.
Mix the dry ingredients together in a separate bowl then sift into the wet ingredients. Stir until well combined.
Add the apples, cranberries, and nuts and stir to distribute evenly.
At this point it seems there is more fruit than batter, and there might be! Don't worry, it will work out in the end.
Transfer the fruited batter into a well-greased, 9 by 13 inch baking dish. Press the batter into place so it is spread fairly evenly.
Bake at 350 degrees F for 45 to 50 minutes.
Allow to cool before slicing.
Courses Desserts and Sweets
Recipe by Keeper of the Home at https://keeperofthehome.org/cranberry-apple-and-walnut-cake-a-perfect-fall-dessert/