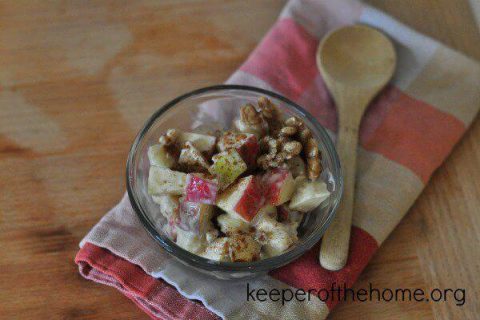 Cinnamon Apple Salad
Ingredients
4-6 smaller apples, or 3-4 large apples
2 bananas
Red or green grapes, halved (optional)
1/2 cup plain yogurt
1 tsp. maple syrup
1/4 tsp. vanilla
1/2 cup chopped walnuts
Cinnamon to taste
Instructions
Mix yogurt with maple syrup and vanilla in small bowl. Chop walnuts. Set aside.
Chop apples and place into a large serving bowl.
Sprinkle apples with a few shakes of cinnamon, to taste.
Pour yogurt mixture onto apples and stir to combine.
Cut up bananas into pieces on top of apples. Add chopped walnuts and grapes, if using, to bowl and stir gently to combine. Serve immediately.
Courses Side Dish
Recipe by Keeper of the Home at https://keeperofthehome.org/cinnamon-apple-salad-recipe-perfect-holiday-sidedish/