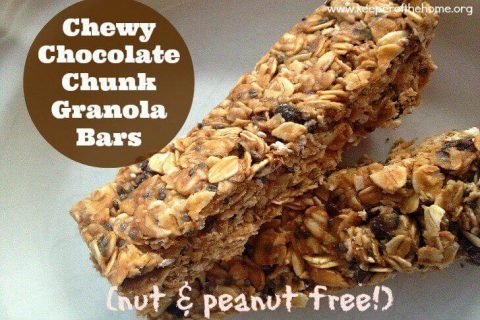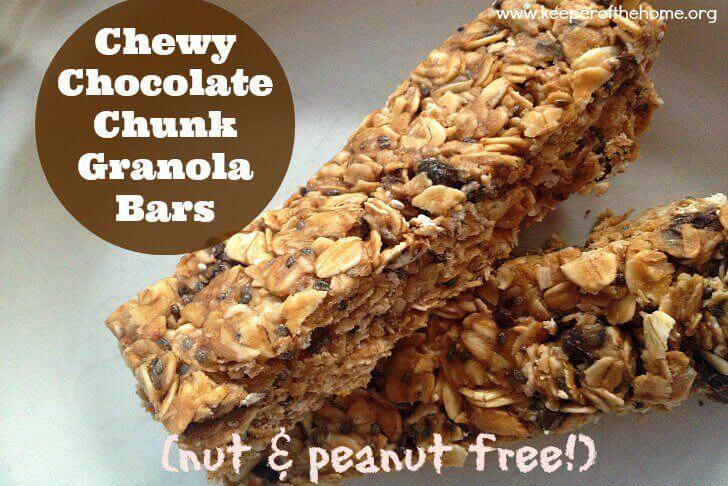 Chewy Chocolate Chunk Granola Bars (nut-free!)
Instructions
Whisk the oats, cinnamon, chia seeds, and salt in a large bowl.Stir in the raisins, chocolate chunks, sunflower and pumpkin seeds.
Warm the nut butter, and stir it into the dry ingredients. Then stir in the honey. It's important that the mixture is wet enough to stick together into bars. You don't want any dry ingredients at the bottom of your bowl, so keep mixing until it is fairly sticky, adding additional honey if necessary.
I lightly grease a 9 x 13 casserole dish with a touch of coconut oil. I'm not sure this is absolutely necessary, but I think it helps a bit to get them out.
Press the mixture into the pan. I rub a touch of coconut oil on my hands first, and press as hard as I can to get it nice and firm.
Stick in the refrigerator for 30 minutes, then cut into slices.
I store mine in the refrigerator because sunflower seed butter requires refrigeration. If you use a shelf-stable nut butter, you may be able to store at room temperature for a few days. I always freeze half the batch and pull out one or two as needed. They're great to take to the pool, beach, or on a picnic!
Courses Baked Goods
Recipe by Keeper of the Home at https://keeperofthehome.org/chewy-chocolate-granola-bars-nut-free/