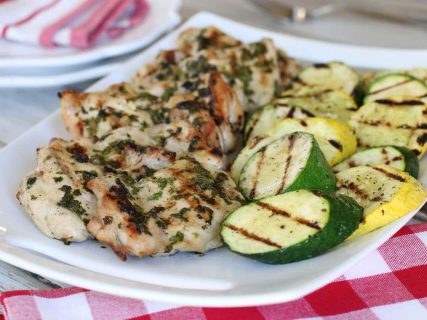 Ingredients
2.5 lbs boneless, skinless chicken thighs
3 cups firm-packed fresh cilantro leaves
1 medium jalapeño pepper, seeded and chopped
3 garlic cloves, peeled and smashed
1 Tbsp lime zest (about 2 limes)
2 Tbsp lime juice (about 2 limes)
1 Tbsp red wine vinegar
1 tsp dijon mustard
1/2 tsp ground ginger
1 tsp salt
Instructions
Place chicken thighs in a 9x9-inch baking dish; set aside.
Place remaining ingredients into a blender or food processor in the order given. Cover and process on low until fine chopped and blended.
Transfer 1/2 cup of the cilantro-lime marinade to a small bowl. Evenly distribute the remaining marinade over the chicken, making sure to well coat.
Cover chicken and refrigerate for 30 minutes to one hour. Then remove from fridge and pre-heat grill to medium-high heat.
Grill chicken about 3-4 minutes, until the edges become opaque. Then flip the chicken over and brush with reserved marinade. Reduce heat to medium and cover grill. Continue cooking until chicken is cooked through. Enjoy!
Recipe by Keeper of the Home at https://keeperofthehome.org/best-summer-grilling-idea-cilantro-lime-chicken/