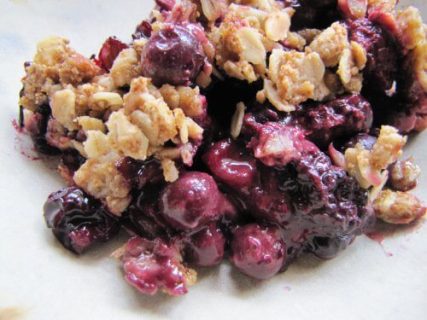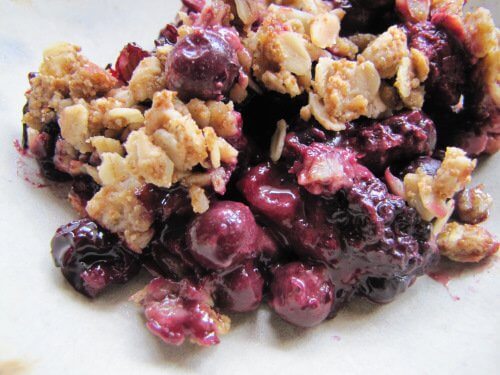 Summer Berry Crisp Recipe
Ingredients
Filling:
6 cups fresh berries, such as blueberries, blackberries, or hulled strawberries (I used 3 cups blueberries, 2 cups strawberries, and 1 cup blackberries)
Grated zest of 1 orange
Grated zest of 1 lemon
1 tablespoon fresh lemon juice
1/2 cup sucanat
4 tablespoons arrowroot
Crisp topping:
1 cup rolled oats
½ whole wheat pastry flour
¼ cup sucanat
½ teaspoon salt
¼ teaspoon allspice
1/3 cup sliced almonds
¼ cup butter, melted
2 tablespoons maple syrup
Instructions
To make filling:
Place the berries, lemon juice, orange zest, and lemon zest, in a large bowl. In a separate bowl stir together the sucanat and arrowroot, then add to the berries and toss gently to combine. Pour berry mixture into an 8 x 8 inch baking dish.
To make topping:
Mix flour, oats, sucanat, allspice, and salt together in a bowl. Add melted butter and maple syrup, stir to combine. Add the nuts and stir again. Sprinkle topping over the fruit.
Bake at 375 degrees F for 30 to 35 minutes. Let the crisp cool slightly before serving to allow the juices to thicken.
Courses Desserts and Sweets
Recipe by Keeper of the Home at https://keeperofthehome.org/5-ways-to-use-blueberries-this-season/